If you're receiving error codes throughout your loan forgiveness process, here's what they mean.
Our loan portal was developed specifically to handle Paycheck Protection Program loans from the Small Business Administration. With so many moving parts to account for, on occasion a member can experience technical problems when trying to log in and view their loan applications.
If you're experiencing issues, this article is here to help you resolve the issue as quick as possible.
Technical issue #1:
This is the most common error. This pops up when a member's information is not found in the loan portal. If you're receiving this error message please fill out this support form and allow 48-72 hours for our tech team to resolve the issue.
Technical issue #2: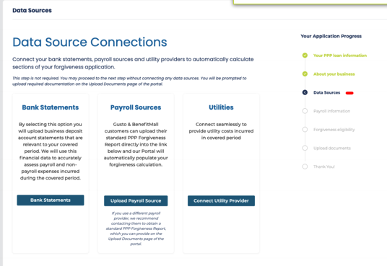 Are you stuck on Page 3 - Data Source Connections? This is the second most common issue. This applies for EZ and Non-EZ applications only.
Many member's will try to add their payroll or bank information at this stage, however the portal only accepts certain payroll providers and the application freezes at this page. If this is happening to you, you'll get a blue circle and nothing in the application will load.
To resolve this issue, log out of the portal.
Then, log back in and hit the next arrow on the Data Sources page to skip. The application will then allow you to move forward with the process. Since you weren't able to add your payroll or bank information on this page, you will have to include those documents on the Upload documents tab which can be found at the final section of the application.
Technical issue #3: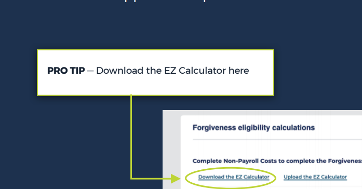 If you're wondering why you can't edit the EZ Calculator spreadsheet, it's because the calculator cells are locked to ensure formulas aren't broken. The cells that you need to fill out are left open to allow for your information.
To use this spreadsheet, simply input your own information in the UNLOCKED cells and leave the rest of the document locked. The information you enter will be automatically calculated for your needs.
Technical issue #4: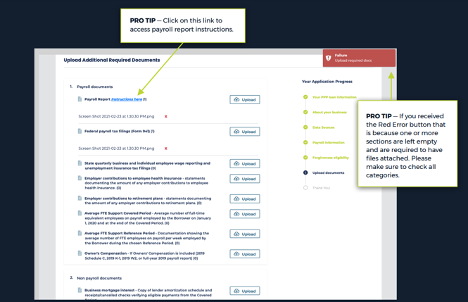 Are you receiving an error message "Failure: Upload required docs." This means that one or more of the sections are missing the required documents.
If you believe that you have uploaded all the required documents and are still receiving this error message, please submit a tech ticket to our Member Services team. Please include as much detail about your issue and a screenshot of the problem - Submit Support Ticket
Conclusion
Much of these issues can be resolved by simply retracing your steps and ensuring you did not miss anything in the process. If you're running into issues, we suggest reading through our Forgiveness Journey documentation where we highlight each part of the process for you.
If you're still having issues, please submit a support ticket using the above forms according to the issue you're experiencing.